Lancia Cars for Sale - Below is a list of the latest vehicles we have for sale. If interested in a particular vehicle please call us on 0118 971 0186.
Lancia Evo 1, Verde York Ltd Edition
Number 332 of 470 made.
111028km, excellent condition, verde coachwork with lovely tan leather high back interior.
Standard car with recent new suspension, complete exhaust system and major cam belt service.
Excellent driver and comprehensive service history.
Price £50,000
Click an image to scroll through a gallery of images.
Images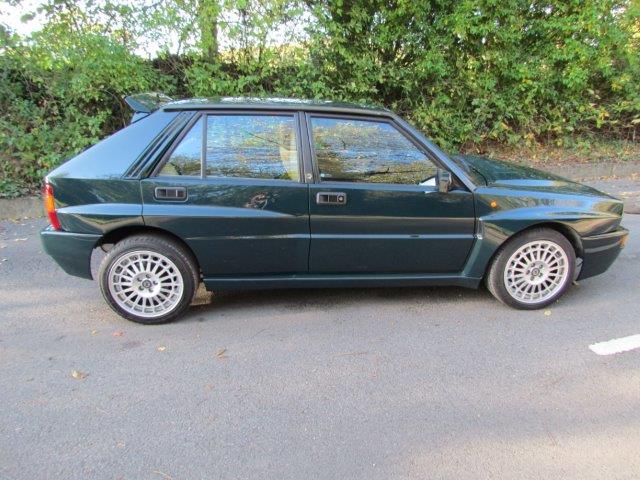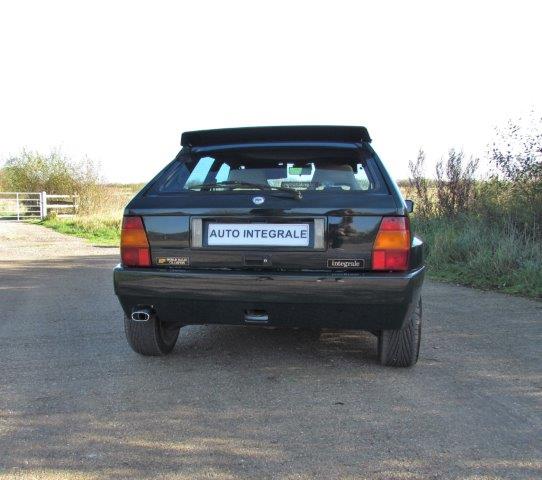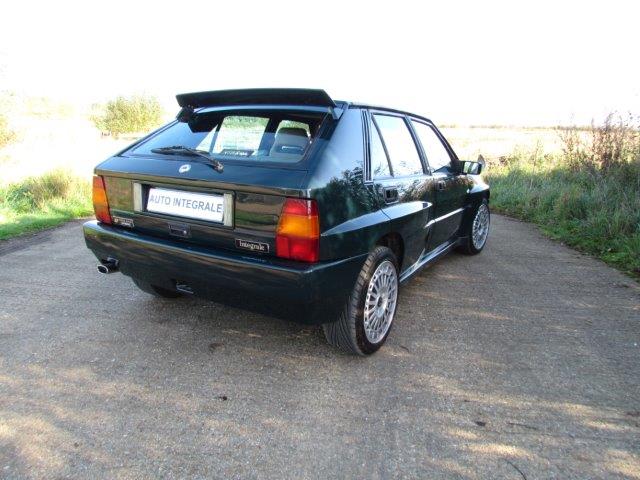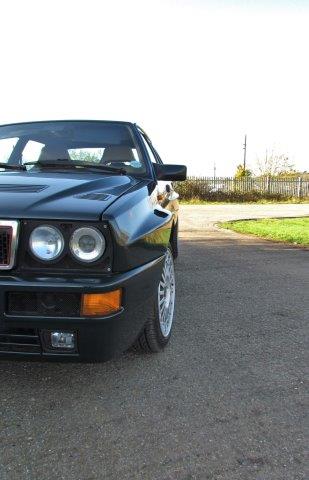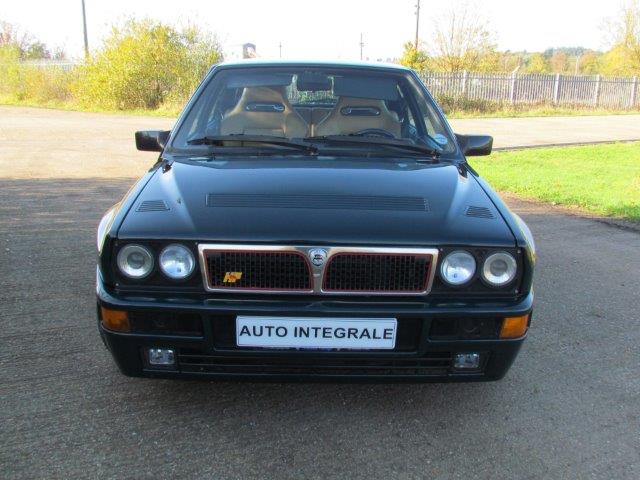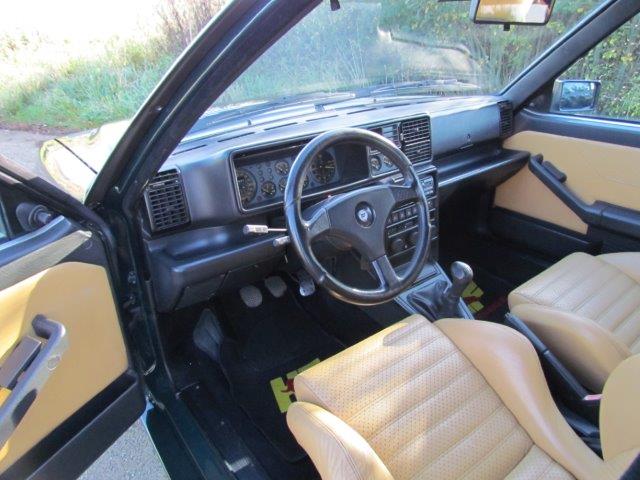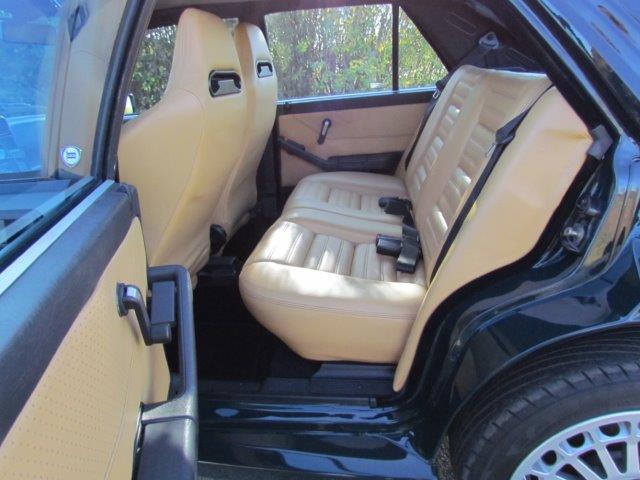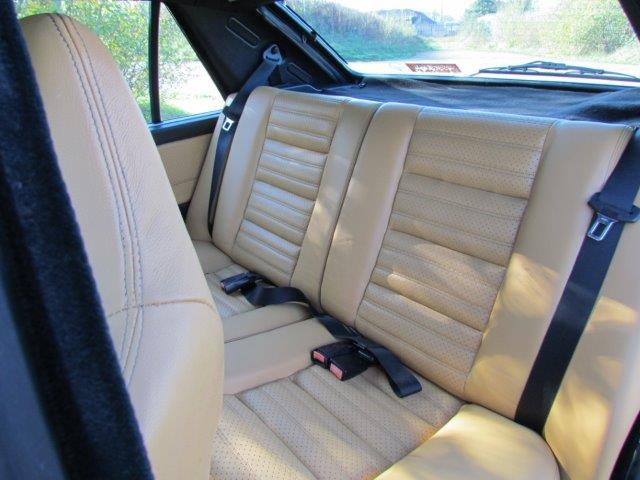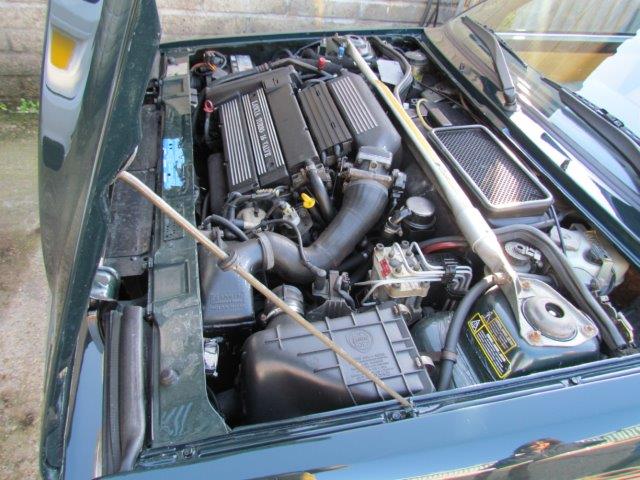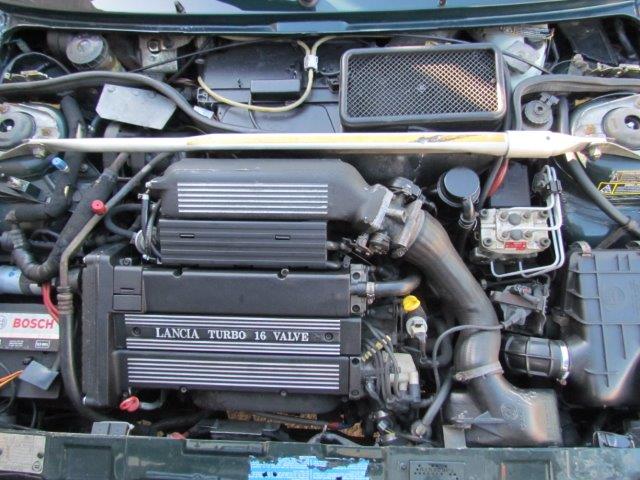 Fiat 500
Fiat 500, 1966 Bianco White with Blue and Cream interior. 98346km.
L.H.D, black fold back sunroof.
Collectable round speedo model.
Excellent drive and great fun
Price £7000
Click an image to scroll through a gallery of images.
Images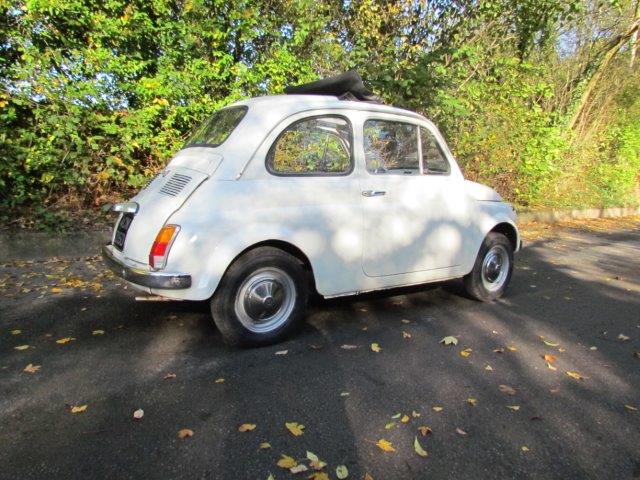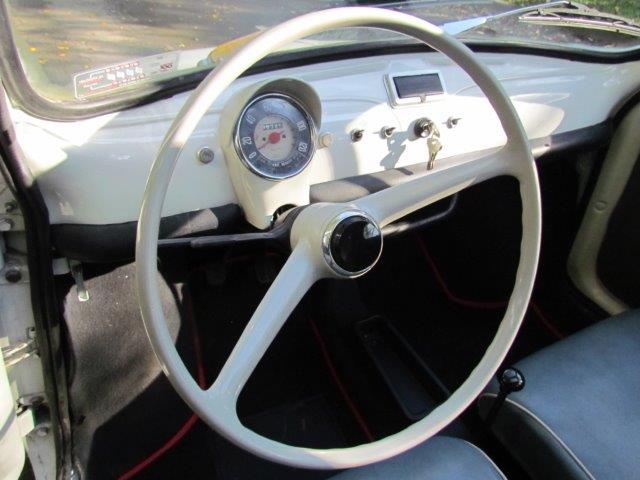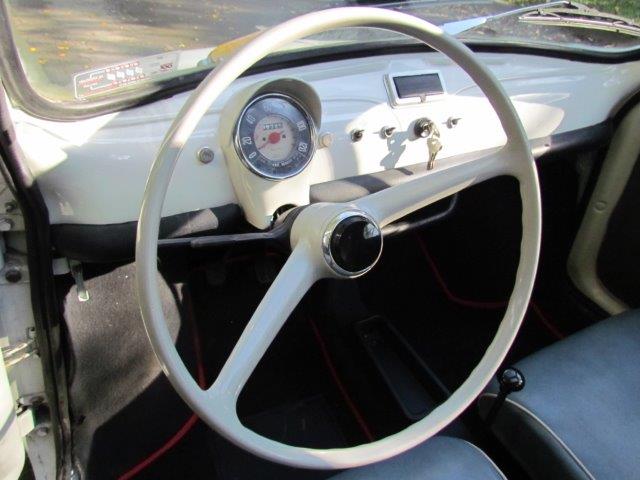 Lancia Delta Integrale 16v
1989 Rosso Monza imported into the UK from Germany in 1999. 1 owner since then, full history file with all receipts forvowrk carrid out in Germany and he UK. Full body restoration carried out by Western Lancia in 2009 and used very little since.
200298km. We have just carried out mjor service with belts and fresh MOT.
This is a very nice unmodified rust free early 16v with no faults, drives and looks superb.
Price £20,000
Click an image to scroll through a gallery of images.
Images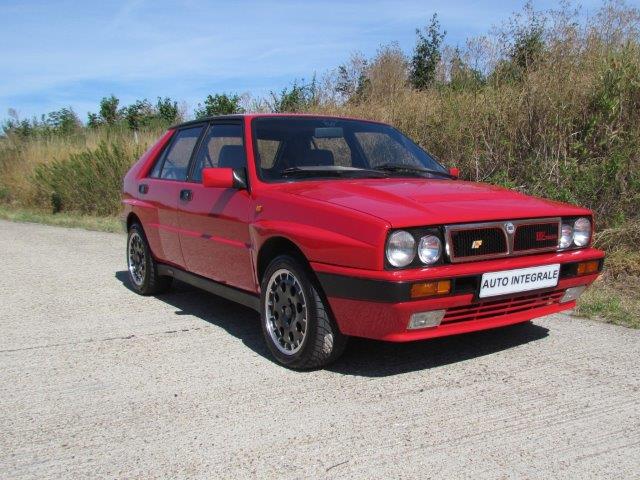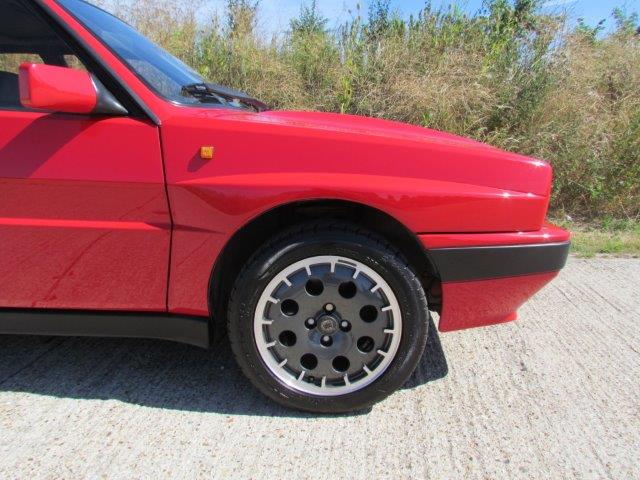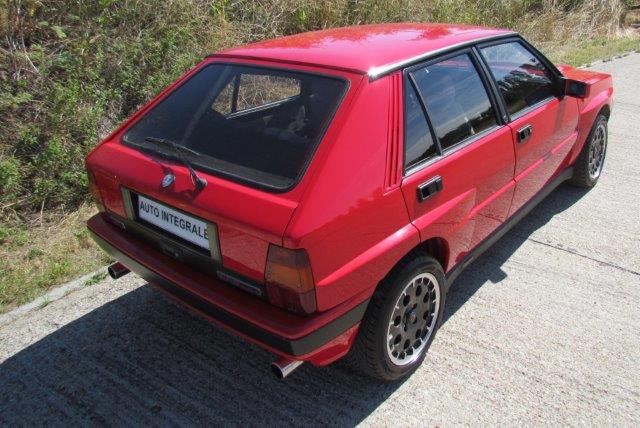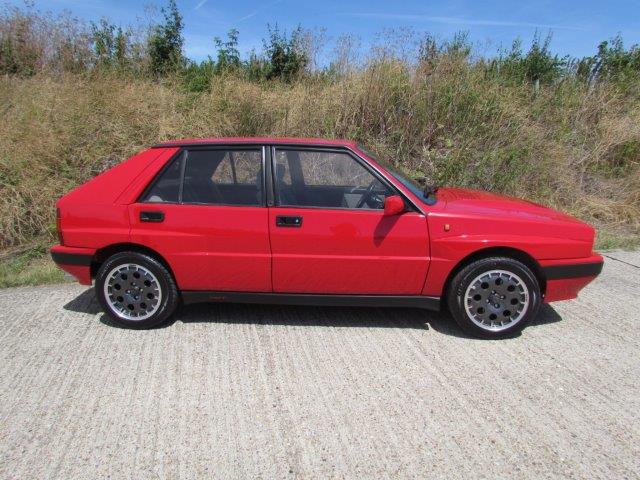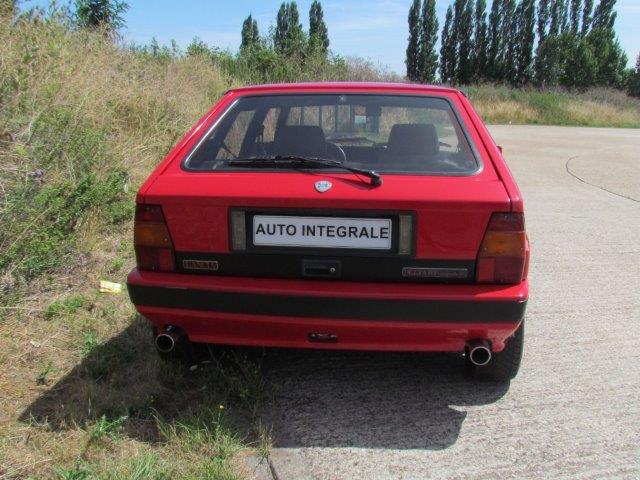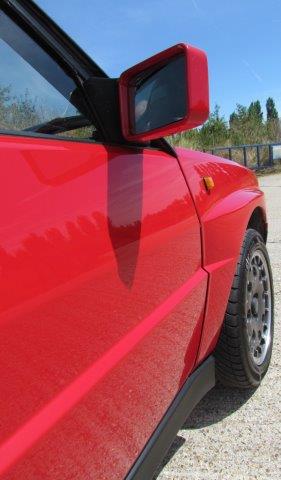 Lancia Integrale Evo 2
Rosso Monza coachwork with beige alcantara high back interior. 86,000 miles, imported from France in 1998 and owned by the same family since.
Recent major service including belts. Excellent condition, no mechanical faults, drives well. Standard unmodified car.
Price £42,500
Click an image to scroll through a gallery of images.
Images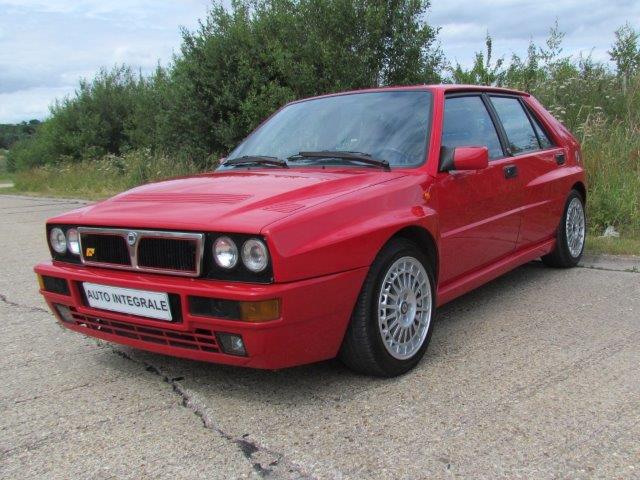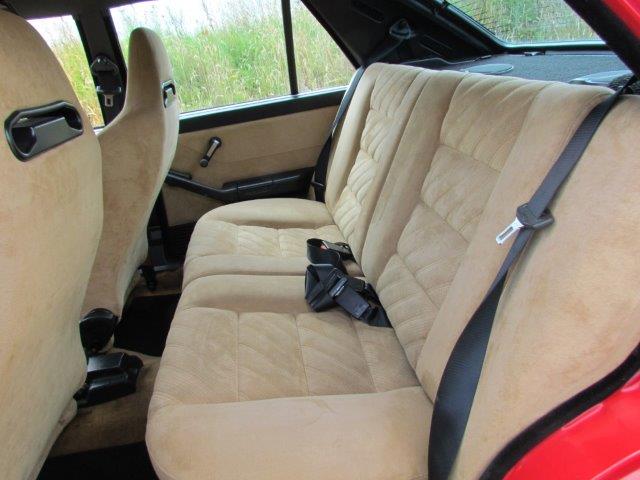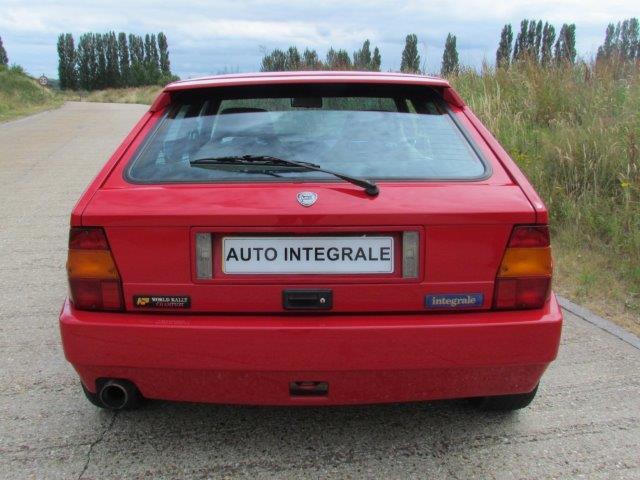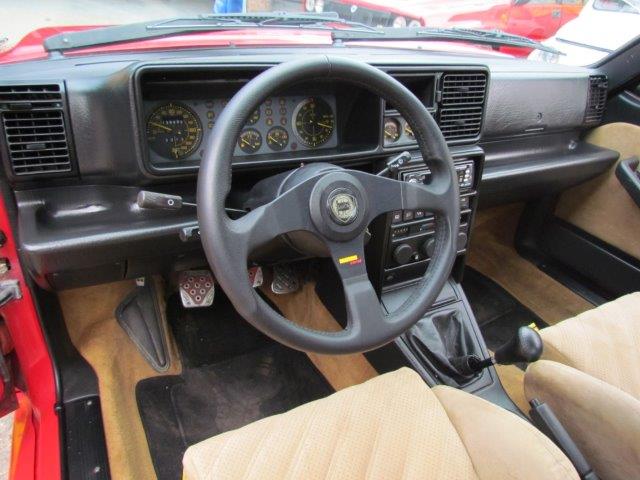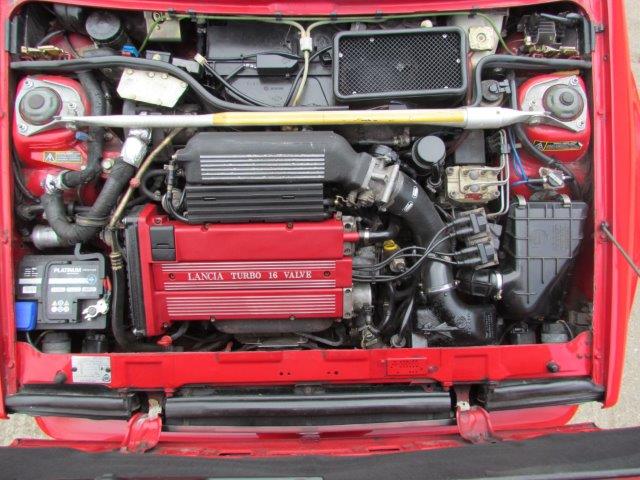 1991 Evo 1
85,000 miles
Nero Metallic coachwork.
Excellent black leather interior, professionally modified. Mapping and E.C.U. fitted by M.A. Developments. Around 350 BHP. Drives superb and reliable. Full history file including original service books and folder. Clifford alarm system. Maintained by Auto Integrale since 2009. Prior to that John Walley and Walkers Garage.
Modifications:
Tubular manifold with bespoke stainless exhaust system
Paddle Clutch
T38 Roller Bearing Turbo
Auto Integrale Fast Road Camshafts
Uprated Head Gasket
Emtron SL4 E.C.U
Uprated iInjectors
Duetsche works 300 Fuel Pump
Black Airt Design Suspension
Porsche Front Brakes
17" Compomotive wheels with new Kumbho tyres
Quick Shift gear change
Momo steering wheel
Price £35,000
Click an image to scroll through a gallery of images.
Images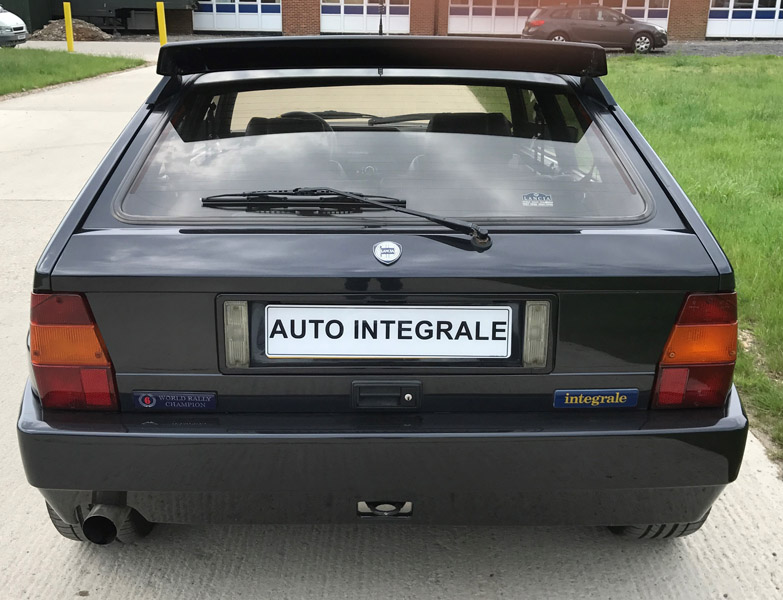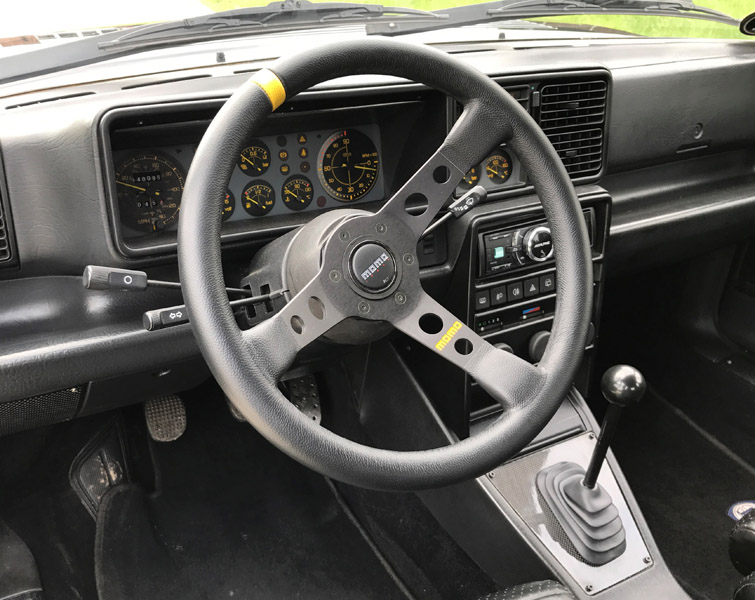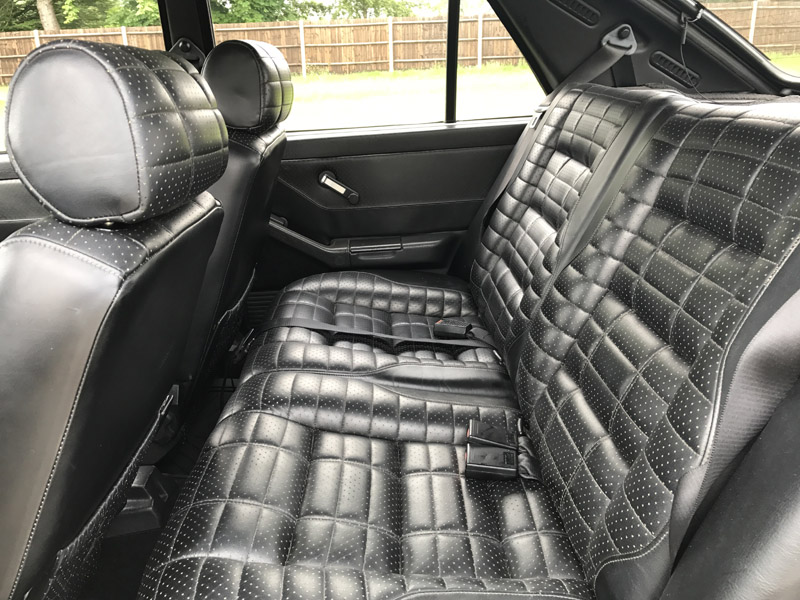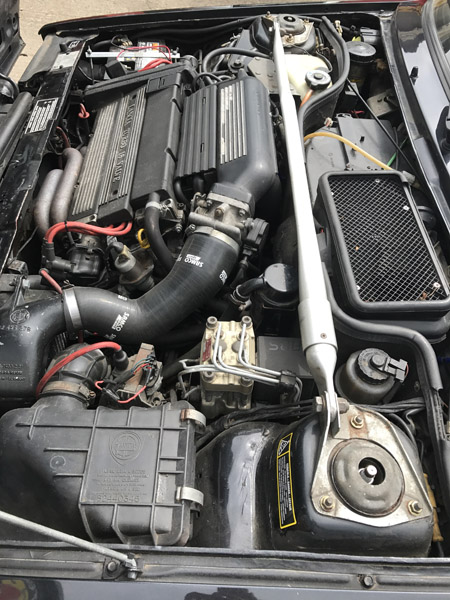 Lancia Integrale EVO 1
Date of registration 1991,
Mileage 191254km
Immaculate Monza Red coachwork, Grey Alcantara interior, Sunroof, engine completely rebuilt by Bob Brain Developments and only just run in. Body work recently restored by Auto Integrale, New MOT, Excellent service history.
Price £33,000
Click an image to scroll through a gallery of images.
Images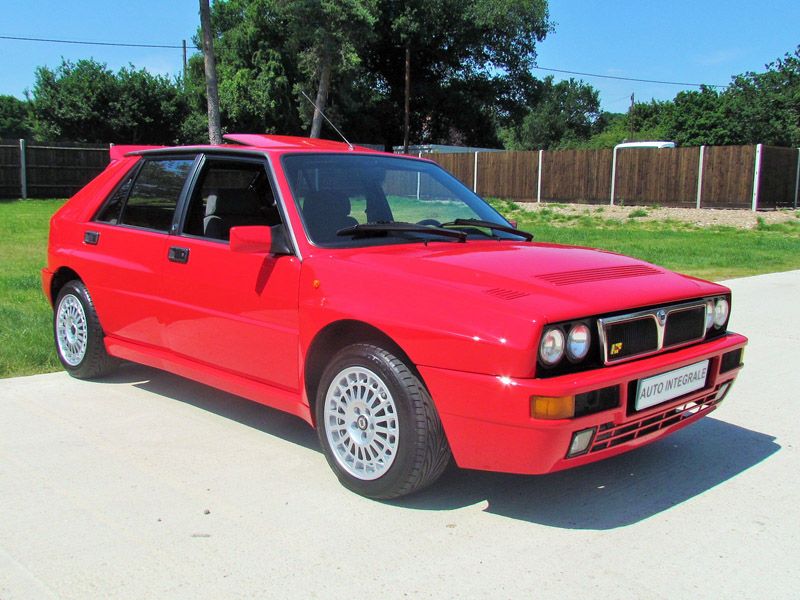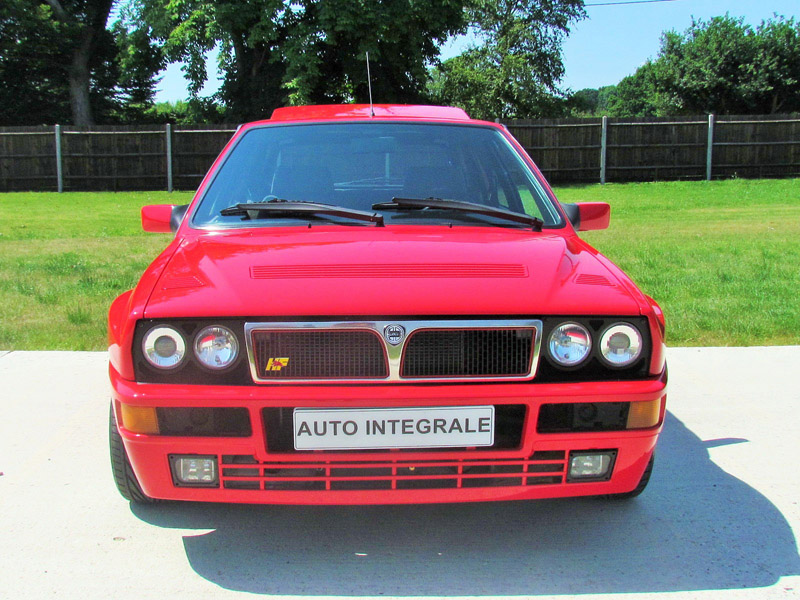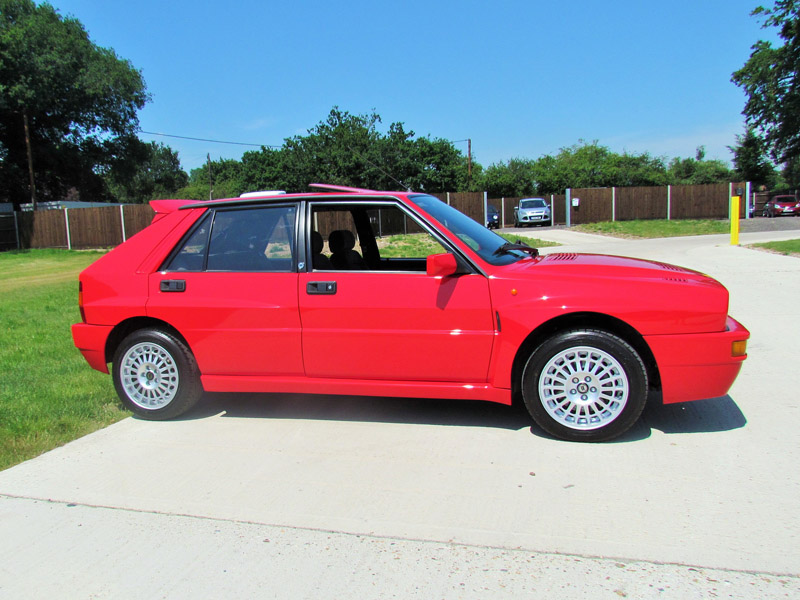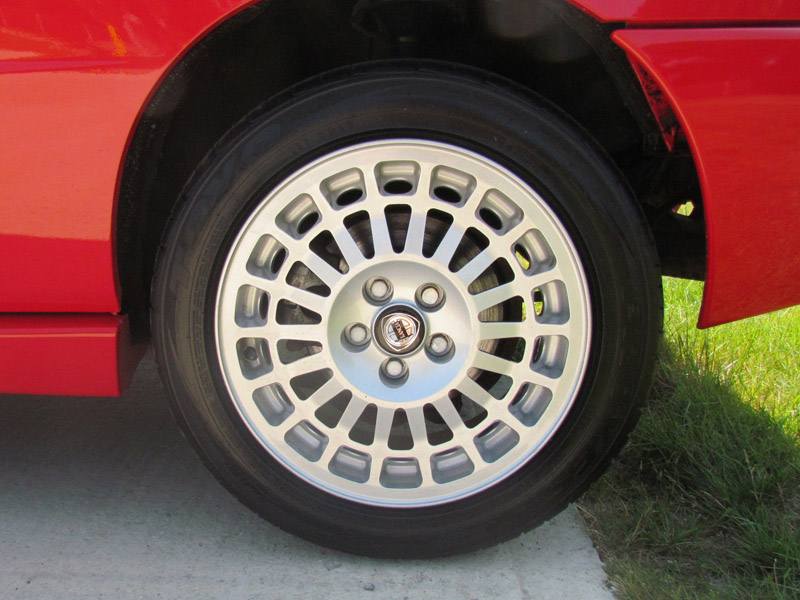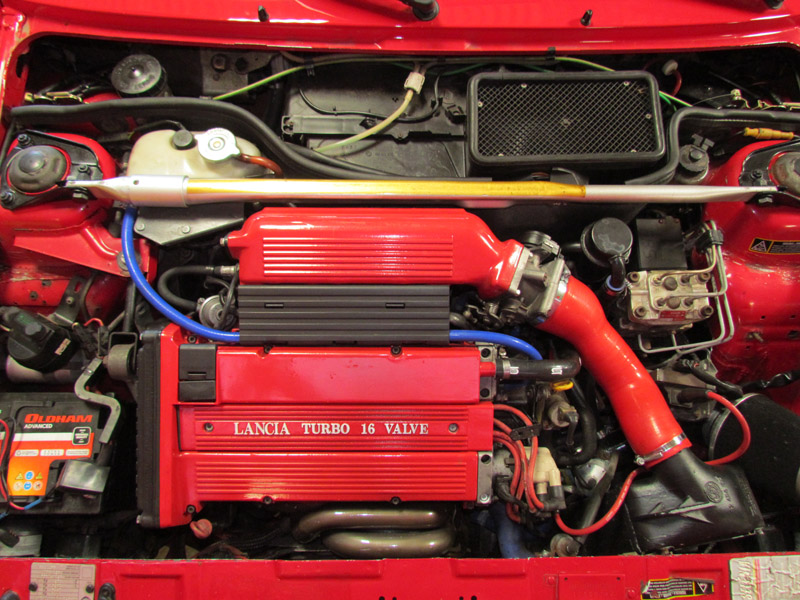 Lancia Delta Integrale 16v
Lancia Delta Integrale 16v, 1988 completely rebuilt with new evolution panels. No expense spared. Fully strengthened shell with excellent cage carried through to sill sections. Group "A" roof vent and mirrors. All martini stripes are hand painted not graphics. 17" compomotive wheels set of 6, with new tarmac spec tyres. Tarrox rear brake kit, 320mm front brake kit, twin cylinder hydraulic system with hydraulic handbrake. Ohlins suspension, tubular rear diff carrier with rose jointed arms. Group "A" tubular front arms.
Stainless steel exhaust system with removable silencer. Forged engine with rally spec camshafts, roller bearing turbo, flowed cylinder head, motec ignition system, works type heater box, racelogic dashboard, electric extinguisher system, terratrip meter, AOL fuel cell in purpose made alloy tank with twin bosch 44 fuel pumps, Pectel headphones. All safety equipment in date and new MSA logbook.
This is just a small sample of the upgrades, please call for more information
Price £90,000
Click an image to scroll through a gallery of images.
Images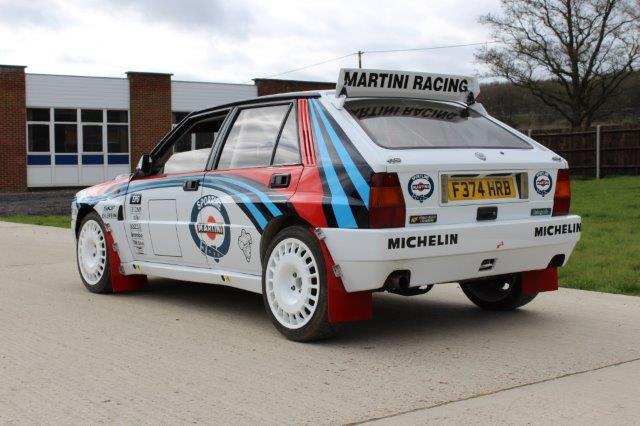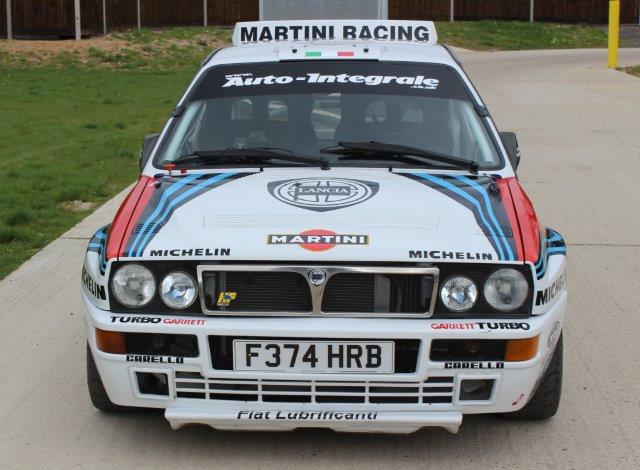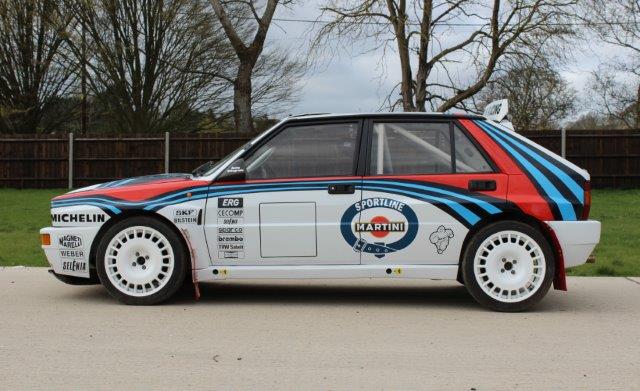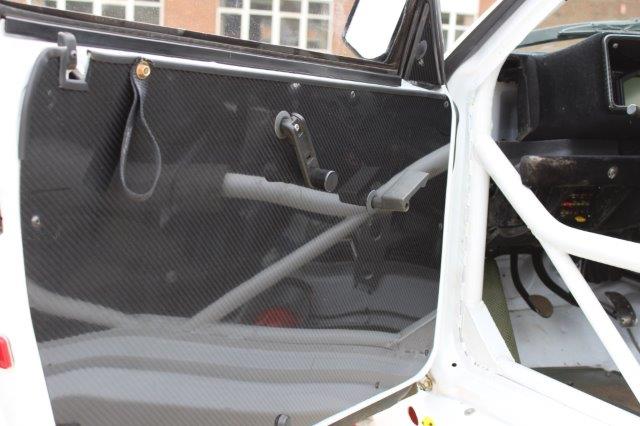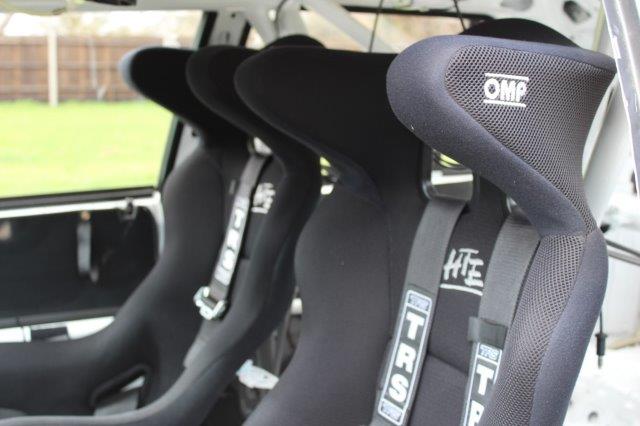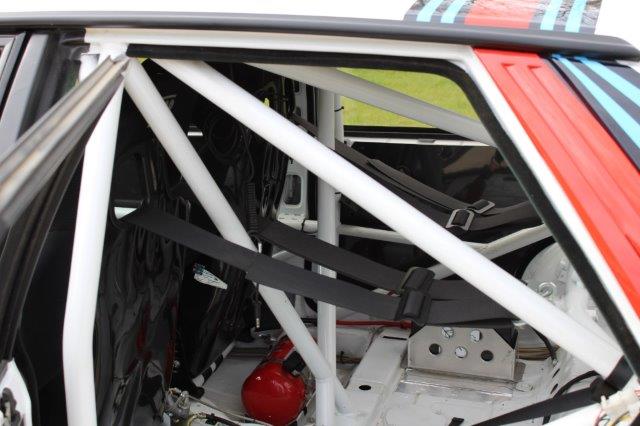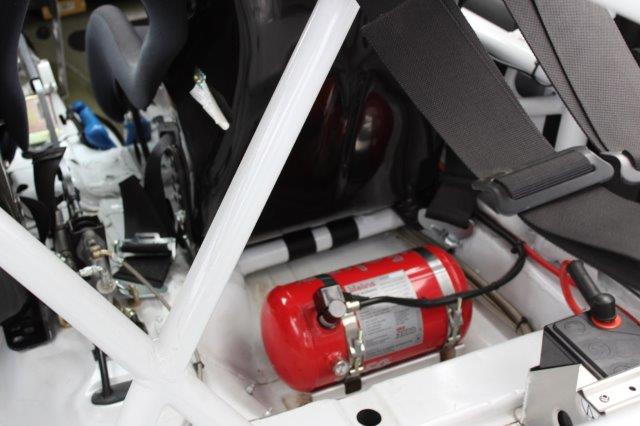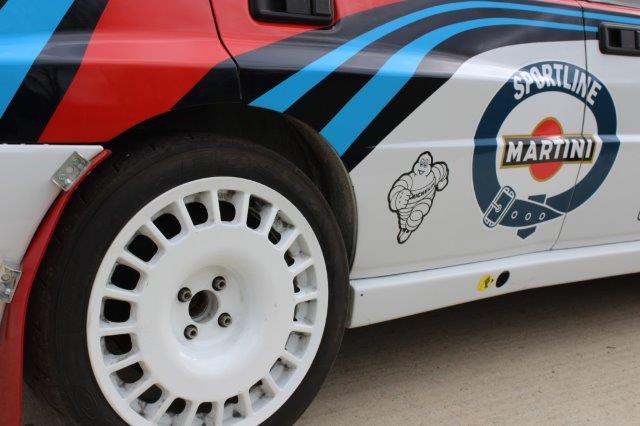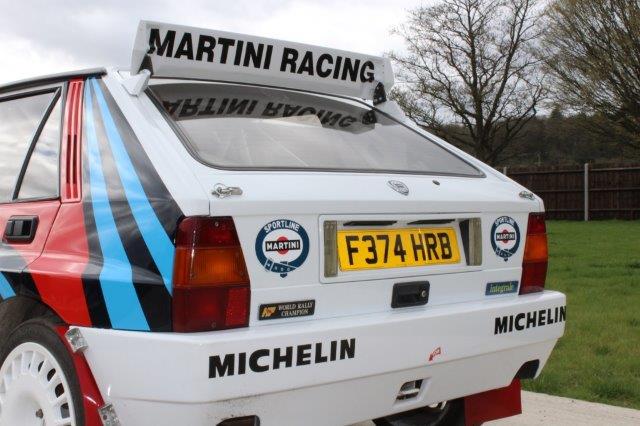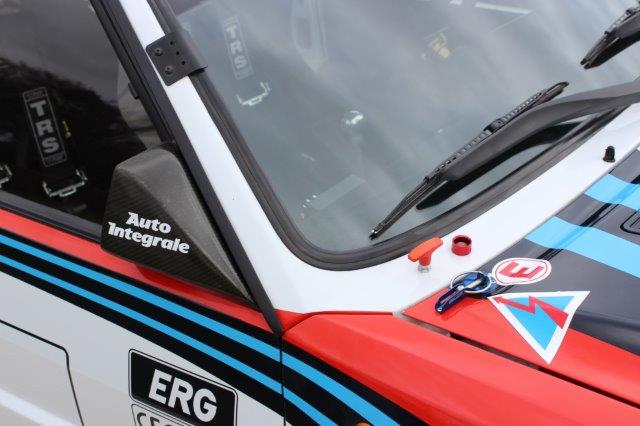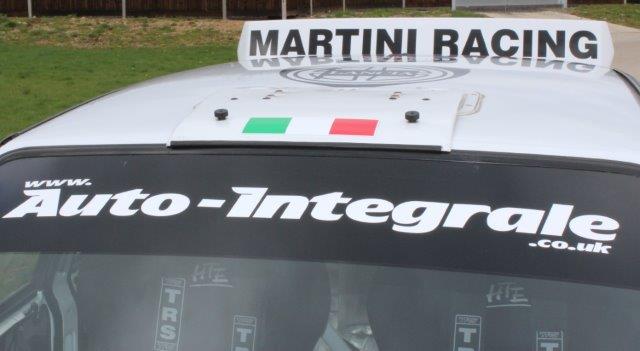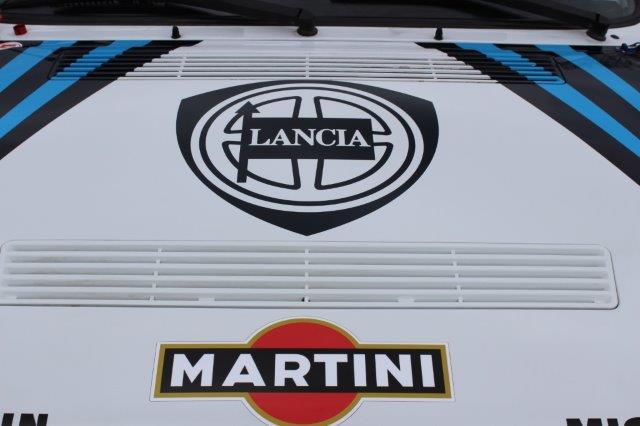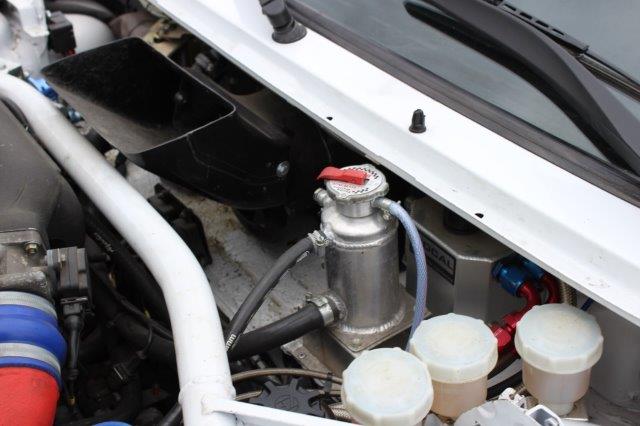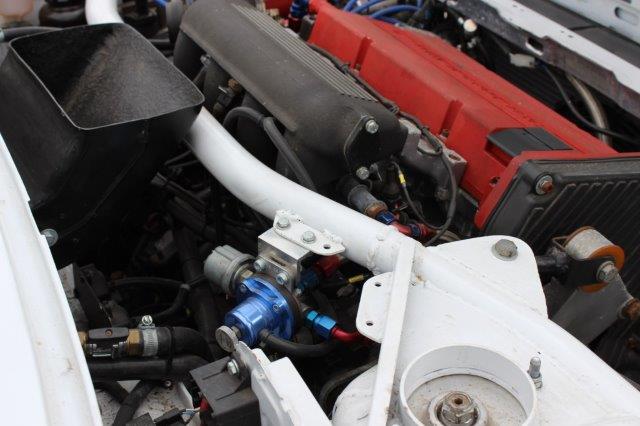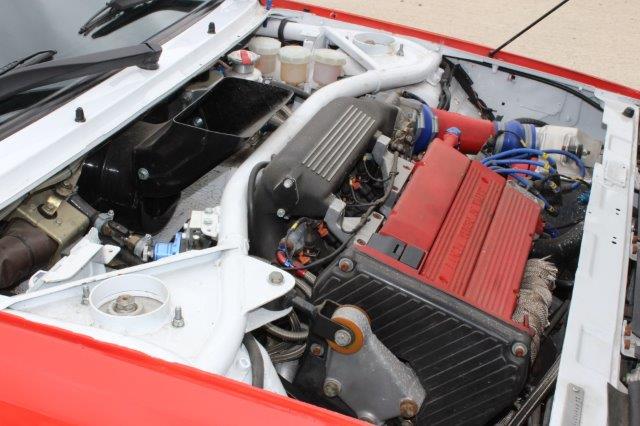 LANCIA FULVIA 1.6 HF SI – SOLD
Commonly known as the Fanalone because of its aggressive headlamps, described as the ultimate Fulvia. Wide track front suspension. 1 negative camber. 13" x 6" light alloy wheels. Uprated steering box. finished off with flared wheel arches and alloy panels. Production run was around 1200 and were made from 1969 to 1970.
This particular example has covered 28000km, Rosso Red coachwork with black trim. Just arrived in the UK from a large collection in Italy. Completely standard apart from carburettors and inlet manifold. We have standard ones and air box if preferred. Underside of car is as original as the day it left the factory, as is the interior and coachwork. Most of these cars have been converted to rally cars and so it is very rare to find an unmolested example.
Price £89,000 SOLD

Click an image to scroll through a gallery of images.
Images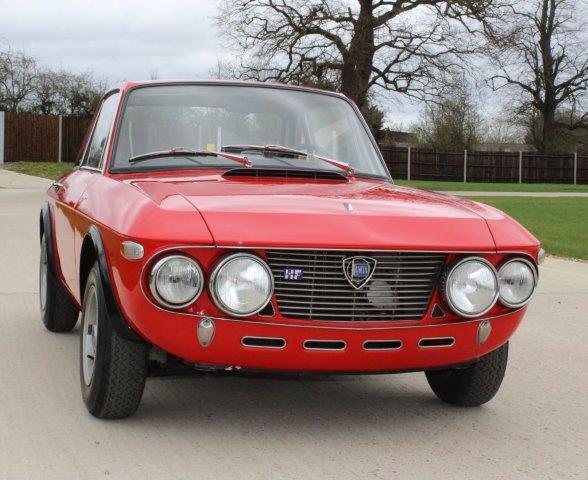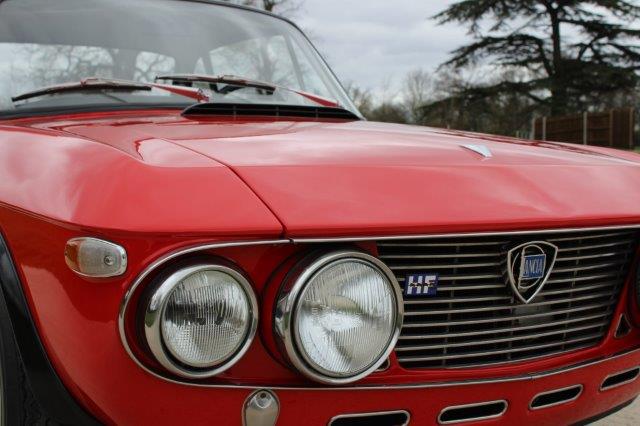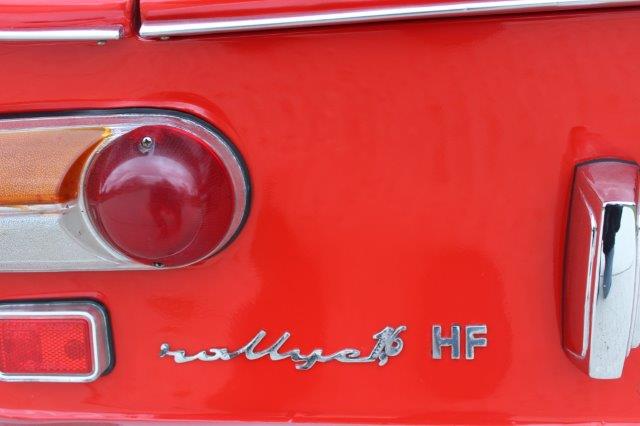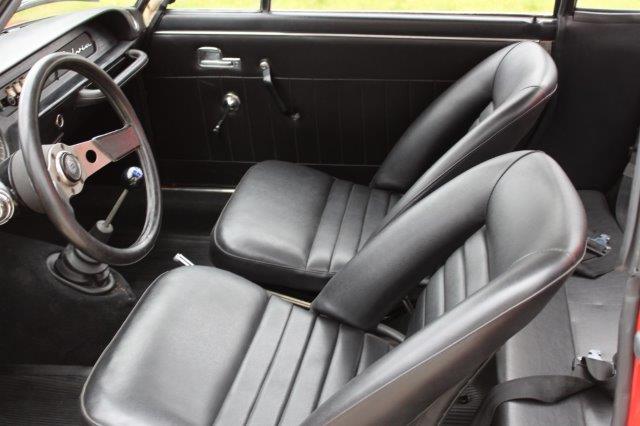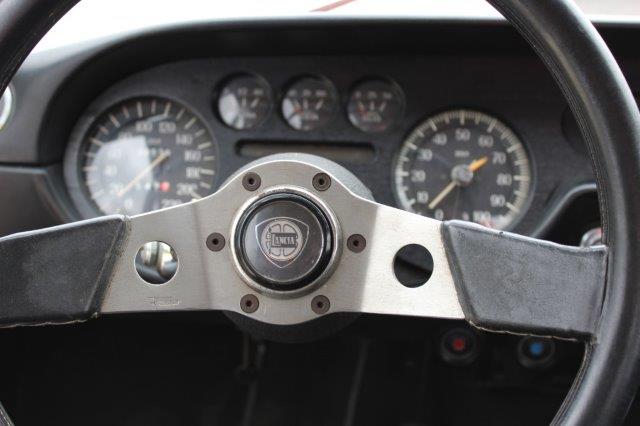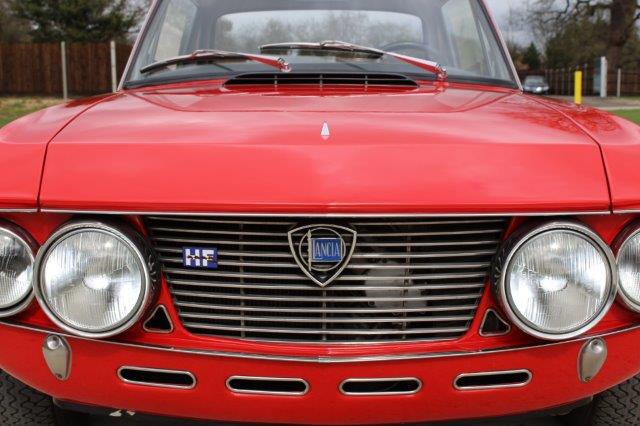 Recreation Group 4 team Marlboro Lancia Fulvia Series II 1600 HF
Recreation of the ex-works car as driven by Kallstrom, Lampiren and Ballestrieri. With exception of 1970 the Lancia Fulvia won the Italian Rally Championship every year from 1965 to 1973. The Fulvia racing career reached its zenith in 1972, when Lancia won the International Championship for Manufacturers two rounds in advance.
We have here a 1972 tarmac rally road car completely rebuilt to an amazing standard. This excellent reliable car is eligible for most historic tarmac events. This is a unique Lancia Fulvia, one of the best prepared cars on the market and ready to go to its new home.
Bodywork and chassis
Alloy bonnet, boot lid and doors, perspex windows. Every part of the car has been removed and lightened or remanufactured including the subframe. The front wings and front panel have been replaced with original Italian spec. works type arches, fitted and then sprayed immaculate Rosso Red with team Marlboro livery.
Interior
Full roll cage, custom built dashboard with terra trip classic 202 and branze rally timer, full fire system, alloy foot rest, race battery and holder, map lights, electrical cut off, brake bypass adjuster, classic rally style seats with 4 point harnesses, Abarth steering wheel.
Exterior
Cromodora 6 x 14 alloy mag wheels with 175-70-14 Vredestein tyres, cibie spot lamps, alloy sum guard.
Engine
1600 balanced engine with forged high compression pistons, rally spec camshafts, Group 4 inlet and exhaust manifolds, twin 45 dellorto carbs fed by works style alloy fuel tank and electric pump. Custom made alloy breather tank, goodridge hoses throughout, oil cooler, luminition ignition.
PRICE £49000
Click an image to scroll through a gallery of images.
Images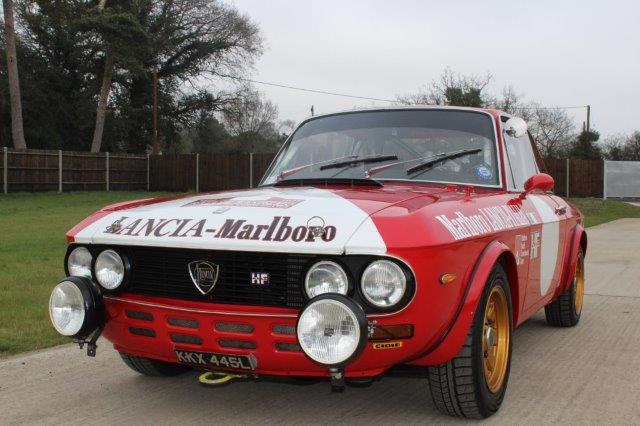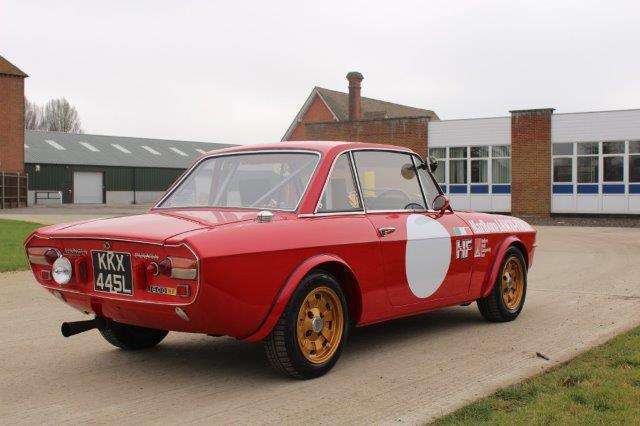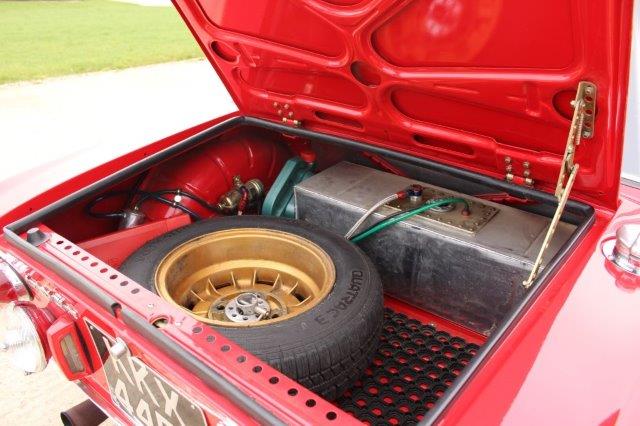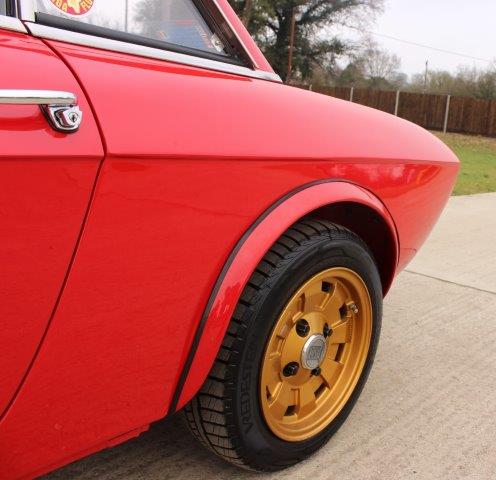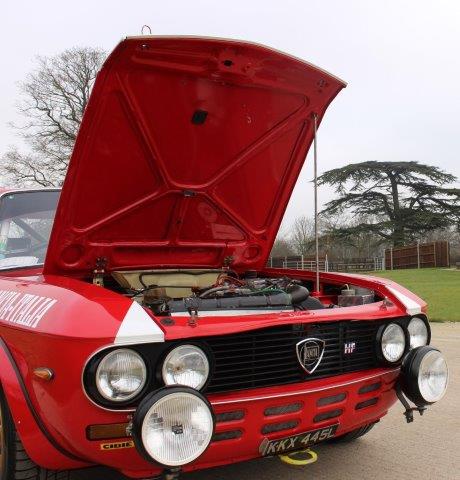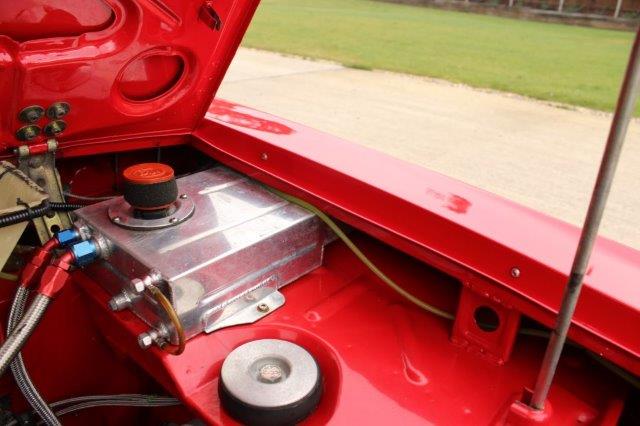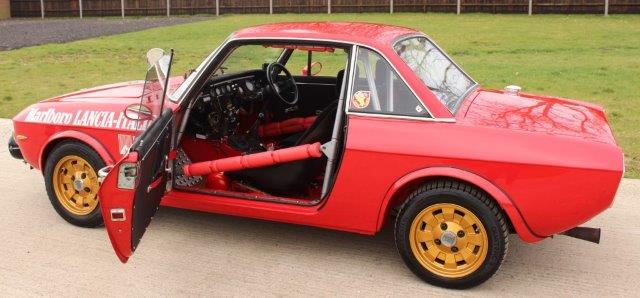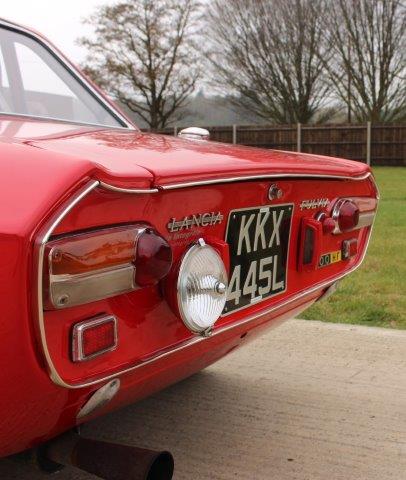 LANCIA DELTA INTEGRALE TRACK/RALLY PREPARED CAR
Built from a 1988 8v Integrale, this car underwent a total strip down.  A complete Abarth shell strengthening kit was welded in along with seam welding.  Then a full sparco M.S.A approved cage was fitted.  Full EVO running gear was fitted including hubs, brakes and steering. The body was then converted to EVO spec with steel rear quarter panels, new roof skin and carbon fibre tailgate, bonnet and front wings.
The engine is the original 8v modified by Bob Brain and fitted with tubular manifold, uprated turbo, alloy radiator and oil cooler and re-mapped ECU, Helix clutch.  Other modifications include Perspex window,  Compomotive THZ wheels, OMP carbon seats with 6 point Sabelt harnesses, adjustable brake bypass valve, full stack ST8100 display system, Group A gear change turret, Group A mirrors, F.K coil over suspension with M Sport top mounts, long life custom built exhaust.
This car is already an excellent road legal track car but with a bit more work would make an excellent historic Rally Car.
Price: £35,000
Click an image to scroll through a gallery of images.
Images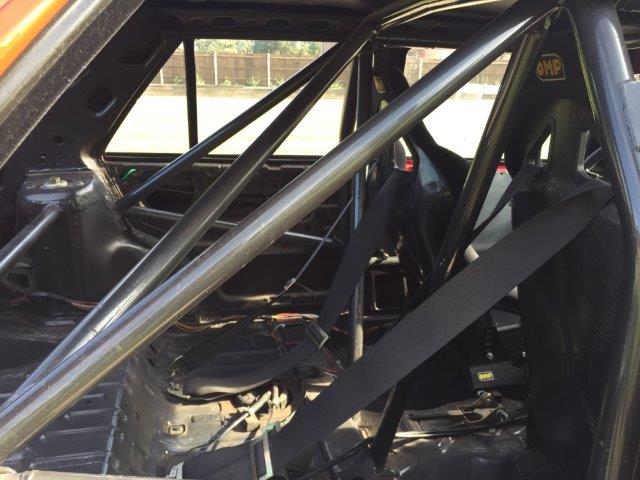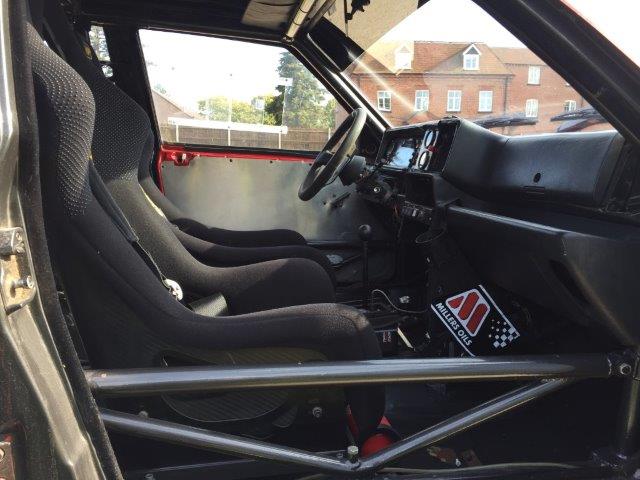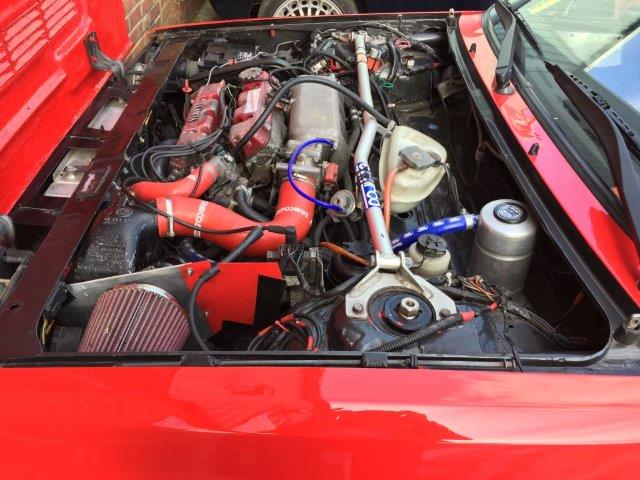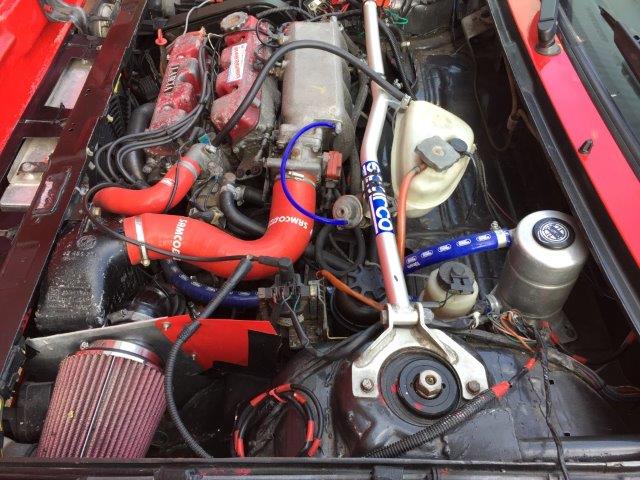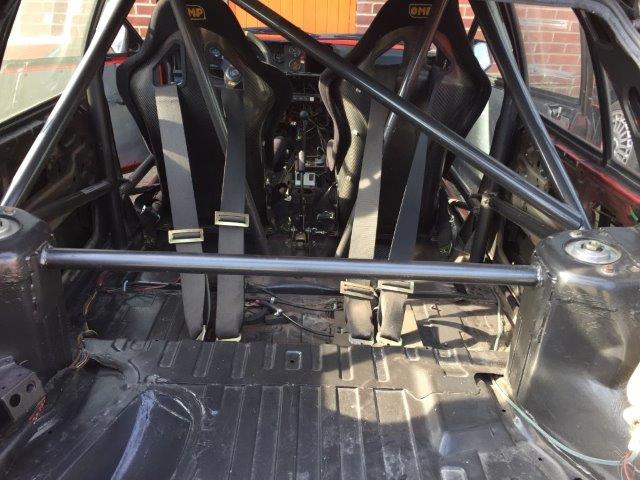 1995 Lancia Integrale EVO 2 – SOLD
M Registration one of the last made.
Only 43,000 miles.
Immaculate Rosso Red coachwork with Beige Alcantara high back trim and H.F overmats.
Service history cam belt service just carried out.
Superb condition one of the nicest Integrales we have had for sale.
This car also comes with private EVO registration included in the price.
Call Keith for more details or arrange a viewing
Price: £55,000 - SOLD

Click an image to scroll through a gallery of images.
Images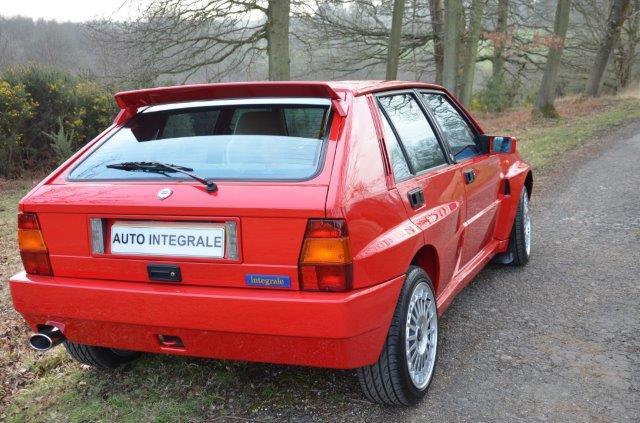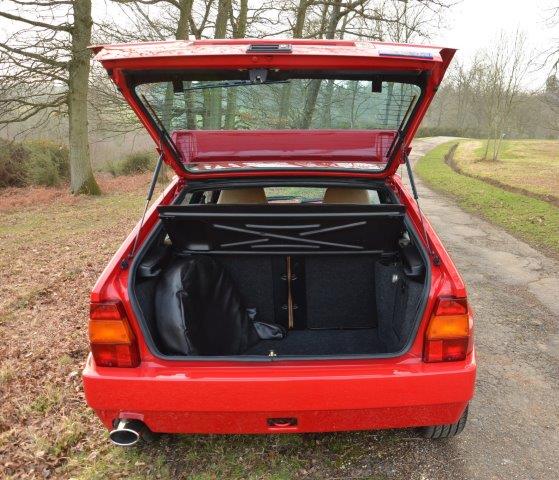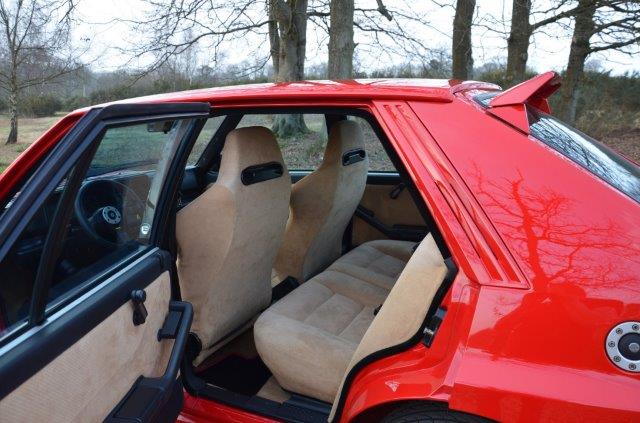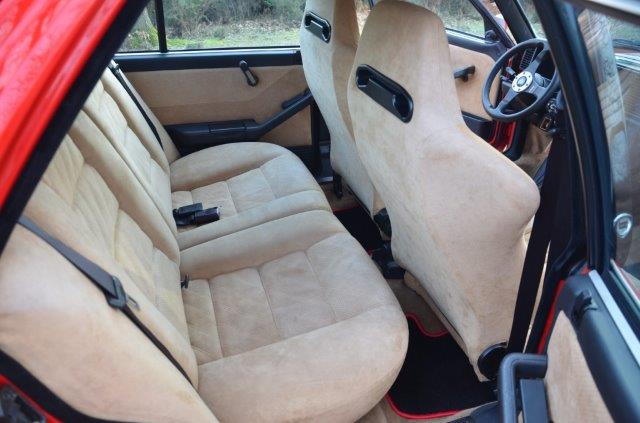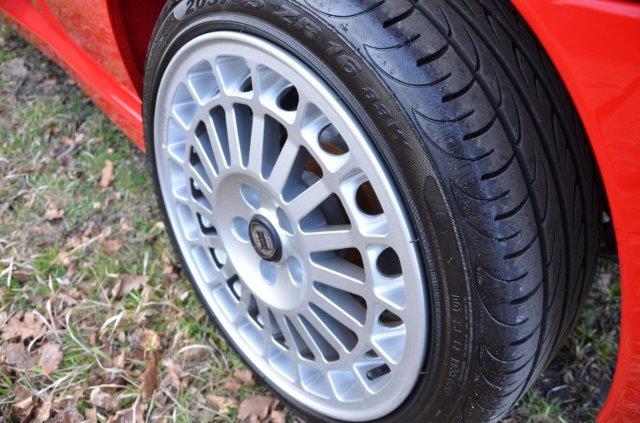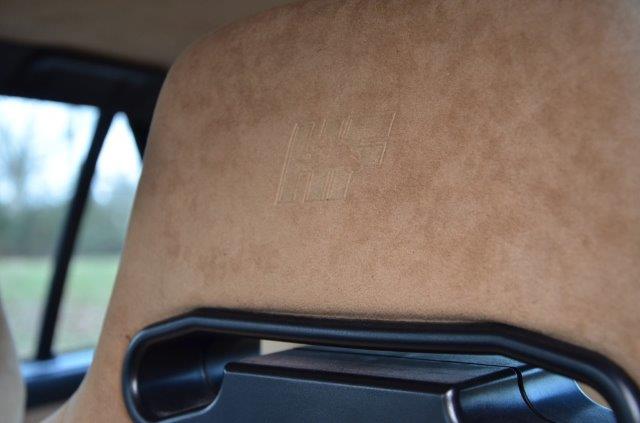 1991 Lancia Delta Integrale Evo 1
Imported by previous owner from Italy in 1998. Present owner since 2002. Currently covered 60000 miles. Immaculate condition with no expense spared. Needs to be seen to appreciate the time and effort that has been lavished on this car.
Major Mechanical Modifications
Exhaust:
Techno 2 Tubular Manifold
Supersprint SS Exhaust
Engine:
Carbon Dynamics Airbox
Bespoke Allard Turbosports Front Mounted Intercooler
Bespoke Allard Turbosports Uprated Aluminium Radiator
Roller Bearing T38 Turbo
AI Fast Road Cams
Adjustable Camshaft Pulleys
630cc Fuel Injectors and Uprated Fuel Pump
Rebored Cylinders to 84.6mm
12mm Head Bolts with Uprated Head Gasket
Forged Pistons and Steel Conrods
Balance Shafts Removed
Uprated Oil Pump and Baffled Sump
Uprated Magnecor Leads
Uprated Engine Wiring Loom
All hoses replaced with Silicone
Custom Remap by FC Performance – Boost Pressure increased to 1.45bar
Drivetrain:
Refurbished Front and Rear Differentials – Front Uprated to 300NM Fluid
Steel Lightweight Flywheel
Fast Road Clutch with Alcon Plate
Uprated 3rd Gear
Strengthening Plate
Suspension:
BC Coilover Suspension Kit with adjustable Top Mounts
All bushes replaced with Polyurethane
Uprated Droplink Kit
Rear Diff Cradle and Uprated Rear Lateral Suspension Bars
OMP Rear Lower Suspension Brace
Brakes:
Drilled and Grooved Front and Rear Discs
Uprated Brake Pads – EBC Green Stuff
Goodridge SS Brakelines
Bodywork:
HDI Headlamp Kit
Front Chassis Strengthening Plates
Sale Price £37,500
Images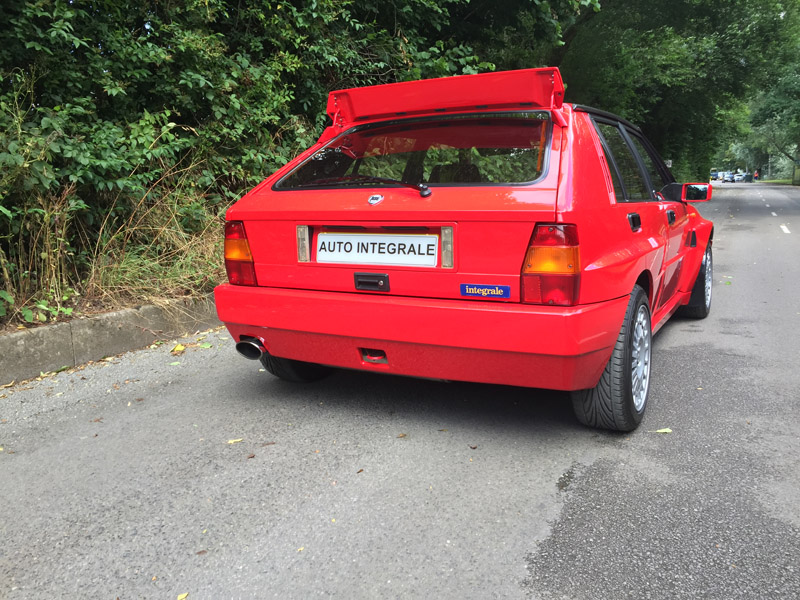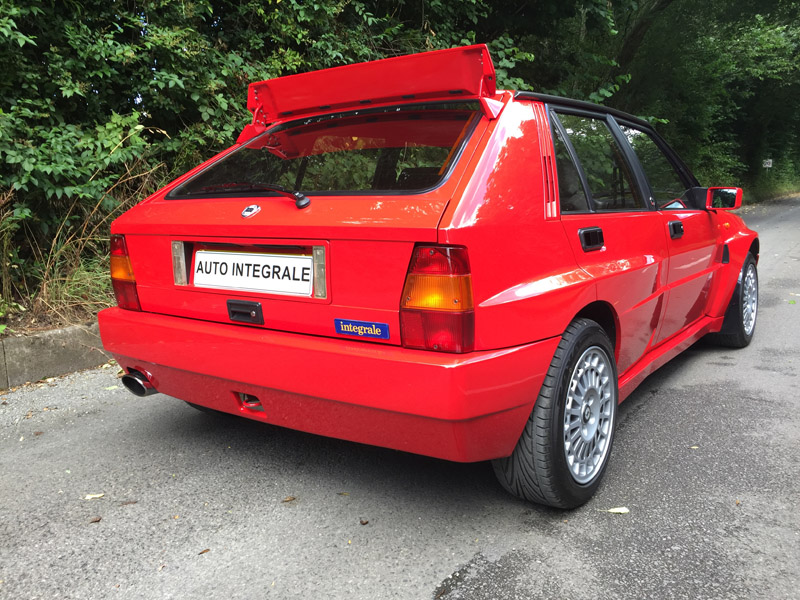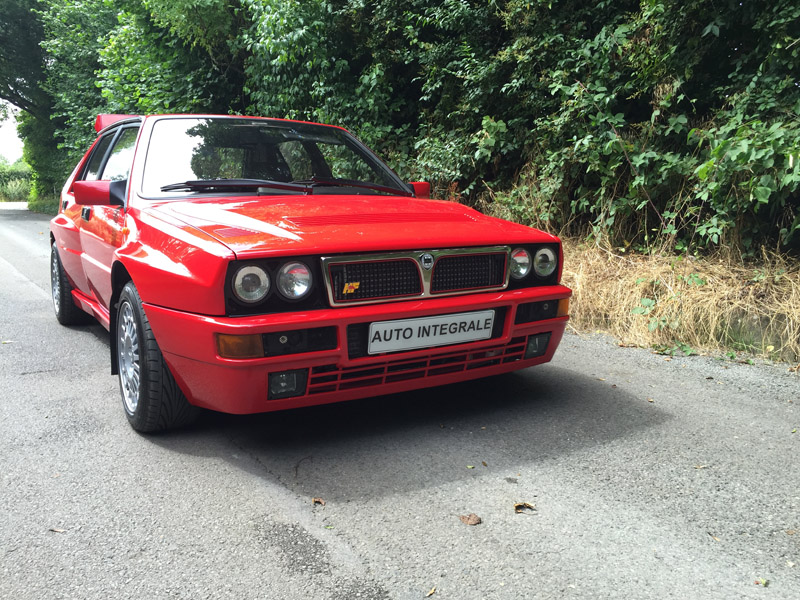 Images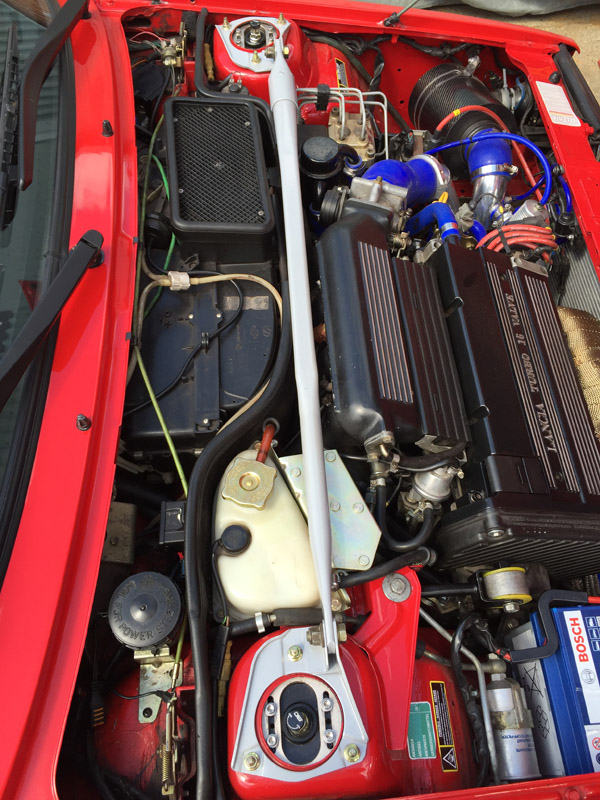 Lancia Delta Integrale Evo 1 Ltd Edition – NOW SOLD
1992 Evo 1 Ltd Edition Verde York, number 120 of 470 cars. Mileage 144208km. Full service history.
British Racing Green coachworks with tan leather interior.  High back seats and black carpet. Blue Selextra glass. Air-con. Cobra alarm system.
3 owners in the UK since being imported in 2001. Last owner 11 years. 
Very nice car just been recommissioned by ourselves after being in storage for several years.
Price: £40,000 - NOW SOLD

Click an image to scroll through a gallery of images.
Images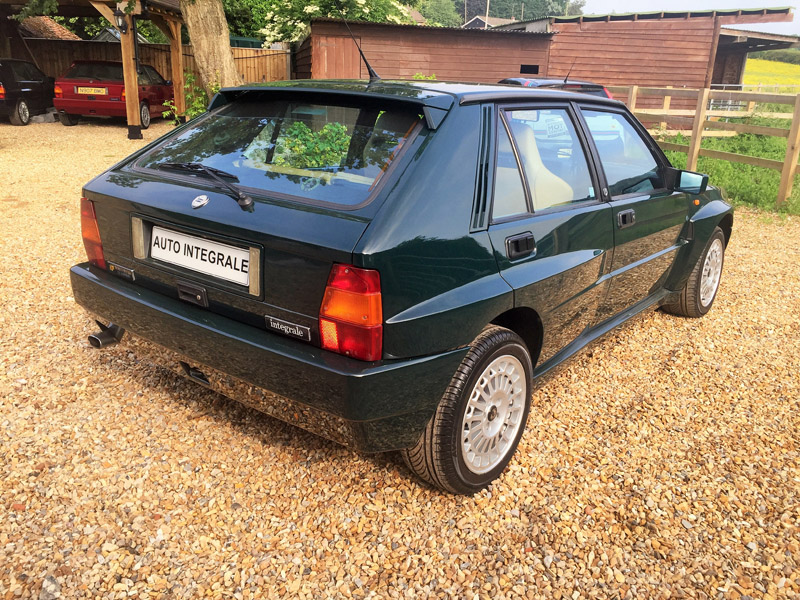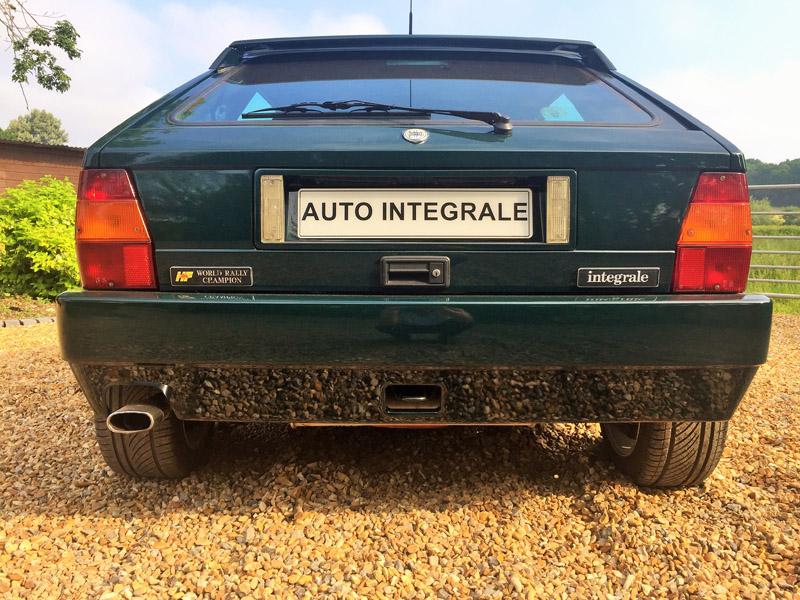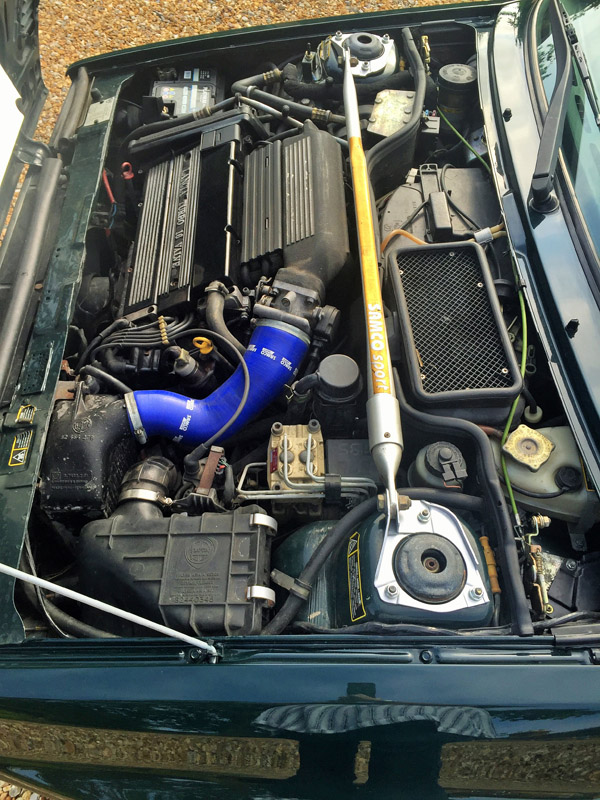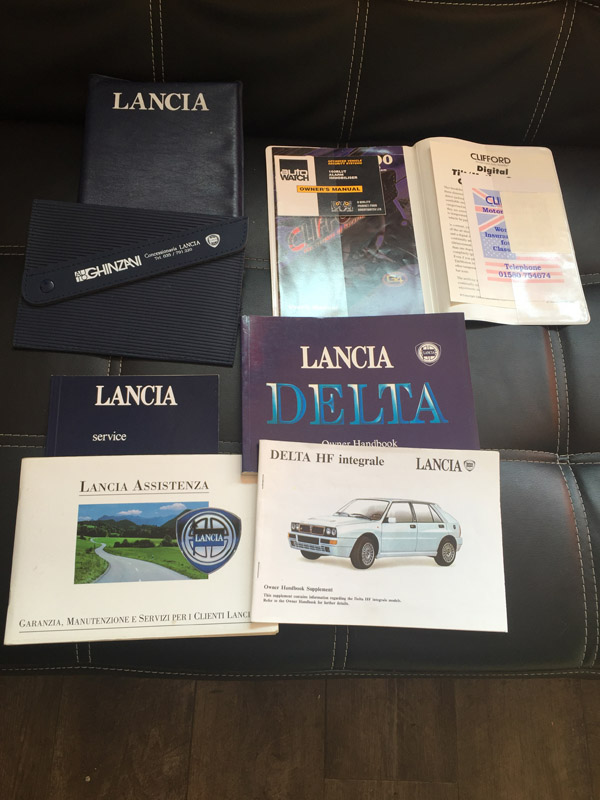 Lancia Integrale Evo 2 – NOW SOLD
1994 Giallo Ginestra with black alcatara high back seats and yellow stitching. 73,000km, excellent condition, imported to UK 2013 from Japan so absolutely as new on the underside. Full cam belt service, new suspension and clutch recently fitted. Stainless exhaust system. Otherwise completely standard, new MOT.
Price: £39,500 - NOW SOLD
Click an image to scroll through a gallery of images.
Images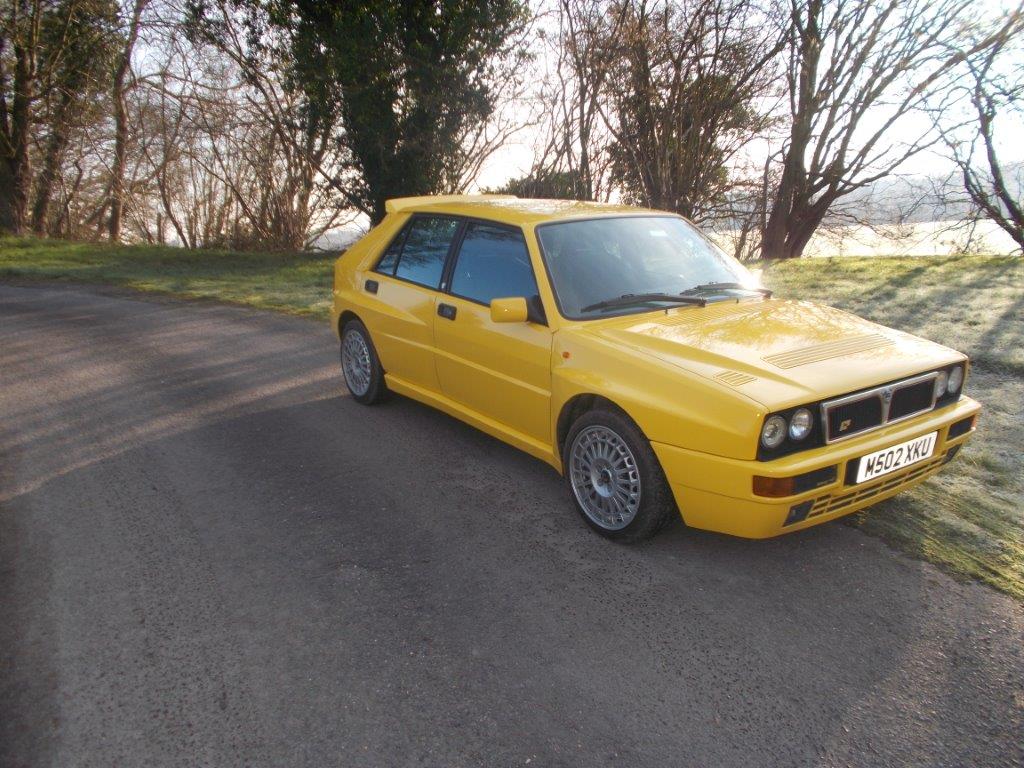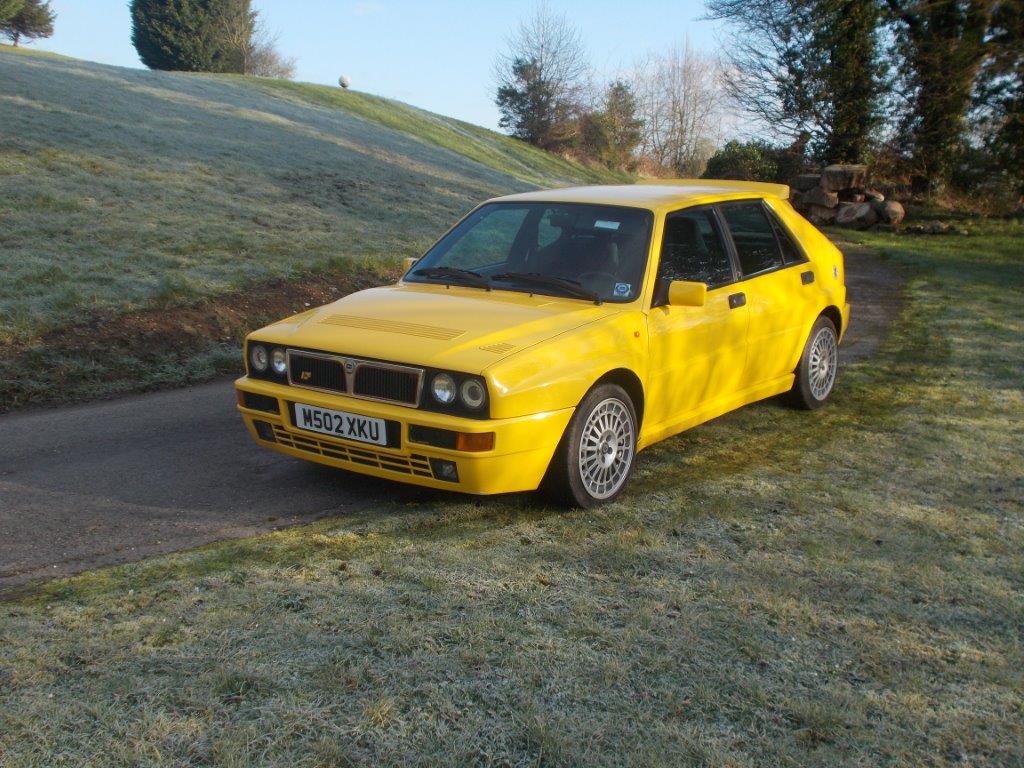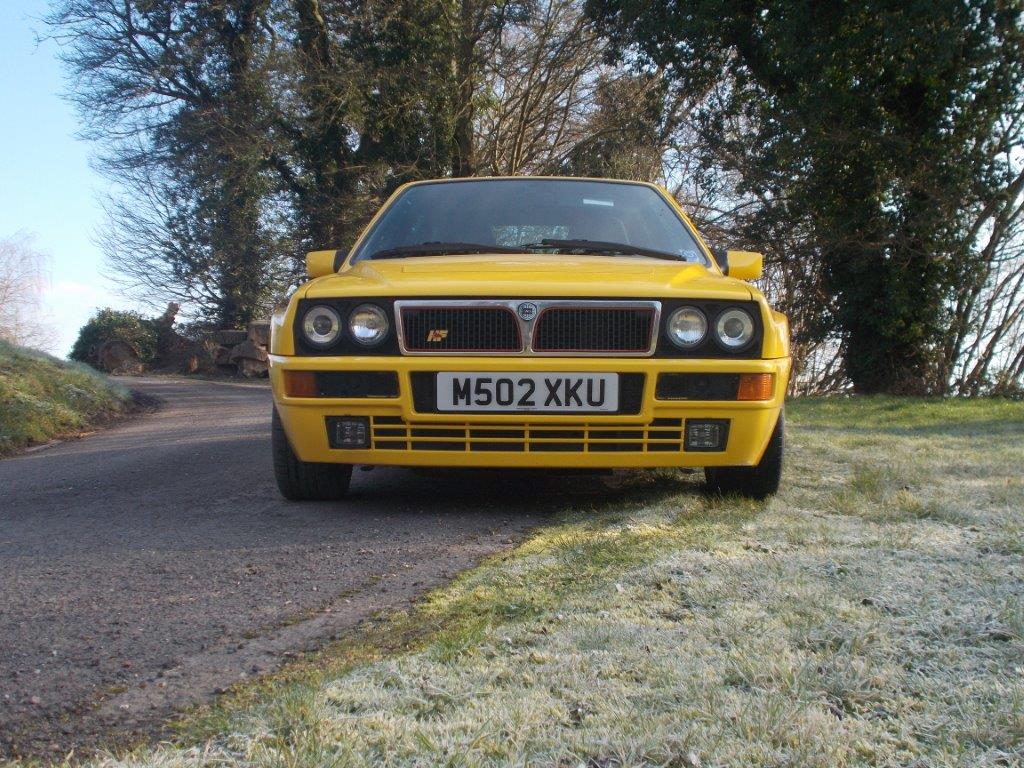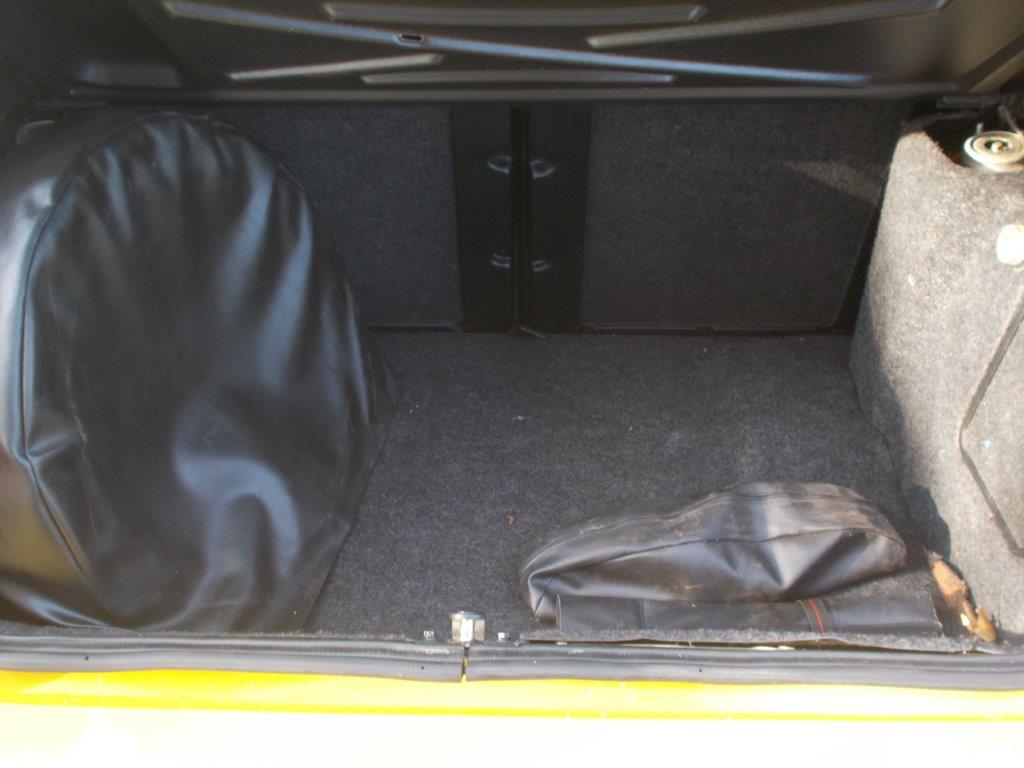 1975 GP150 White
Stunning UK RESTORED un-modified GP150 using Italian parts where possible.
Engine barely used only having covered 105 miles and still being run in. All new innards and new Italian casing. Completely blasted to bare corrosion free metal. Professionally painted. Suspension and brakes rebuilt.
Fitted with optional chrome spare wheel carrier and Castrol oil can. MOT 07/2016. Rides beautifully.
Price: £4150
Click an image to scroll through a gallery of images.
Images